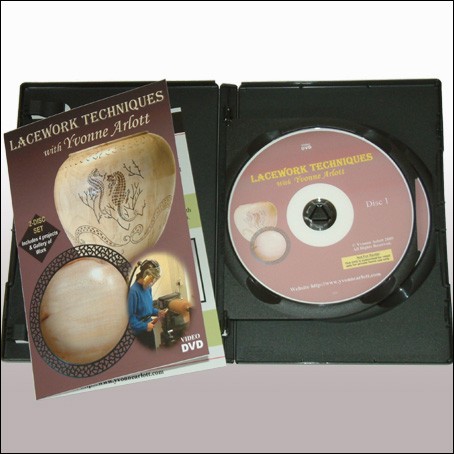 SKU: B06DV0PAL
Description:
A woodturning DVD by woodturner Yvonne Arlott focusing on how the lacework techniques that she so often uses in her work is done.
The woodturning DVD comprises of 2 discs, covering how to turn four individual projects as well as the techniques of carving and pyrography to further enhance work.
DVD Includes:
Projects:
Thin Bowl
Lacework Bowl
Lacework Fish Vase
Lacework Sea Life Vase
Techniques:
Carving a Basic Lacework Effect Pattern
Marking Out & Carving a Picture or Design
Enhancing Pictures using Pyrography
Further Details:
Running Time: 185 Min approx
Colour: Available in PAL or NTSC
Language: English
Subtitles: English
Screen Format: 4:3
Region: 0
The DVD is available in two formats PAL and NTSC. The format needed does depend on the accepted standard used in the country you're in. PAL format is for use in the United Kingdom and NTSC is used throughout the United States and Canada.